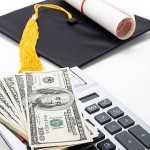 A higher education degree is a costly, yet vital investment for students seeking to expand their education within Master's of Business Administration (MBA) programs, and many students find themselves needing to pursue alternative financing, including MBA loans. Students interested in continuing studies within MBA degrees must consider the best educational and financing programs to meet their specific situation and needs. Many students acquire substantial educational debt while expanding their knowledge in graduate level programs. There are many options for MBA students to secure funding necessary to cover the cost of their graduate education through scholarships, corporate or company sponsorships, savings plans, grants, graduate assistantships, and educational loans from private and/or public organizations.
Featured Top-ranked Programs
1. Liberty University Online MBA
2. Grand Canyon University Online MBA
3. University of North Carolina Online MBA

Despite the number of available options, the cost of financing an education within MBA programs is increasing while Federal assistance is decreasing. In response, most lending organizations have created numerous student focused MBA loans to assist students in financing their education while minimizing debt.
Finding The Best Financial Options For MBA Program Studies
The best combination of financial options to close any educational funding gaps requires careful planning and decision making for many students as they complete their degree. The best financing options meet a students present and foreseeable future financial situation. Selecting the best financial aid and loan programs is imperative to a student's overall success while pursuing a degree and beyond.
The Financial Aid Process
The first and most important step in choosing the best financial options is gaining a solid understanding of the financial aid process. Financial aid information is generally available through resources like the Student Loan Network, guidance counselors, and most on campus financial aid counselors. Federal programs are often a student's first option when financing a MBA program. Federal programs are available to most U.S. citizens and some international students through the Free Application For Federal Student Aid (FAFSA) program. Federal programs include programs like the Stafford loan. Depending upon personal financial standing and other economic factors, most MBA students generally qualify for Federal programs and then must supplement the cost of tuition and other education related expenses through consolidation, alternative, and/or private MBA loans offered through various lending organizations.
Consolidation Loans
Many MBA students choose to consolidate student loans through a variety of private lending organizations in addition to Federal programs. As students manage the cost of previous studies within undergraduate programs while completing their MBA, most find loan consolidation programs one of the most practical and beneficial financing options. Consolidation programs are generally offered through private lending organizations and allow students to reduce monthly repayment costs while combining all student MBA loans into one payment. When considering consolidation loans, students must be certain to select a provider of MBA loans with a reputable history and competitive interest rates.
Private And Alternative Loans
Private and alternative student MBA loans are supplemental to Federal student aid and are available to most students as they finance their education . Private MBA loans generally offer competitive interest rates,rewards for timely repayment, and varied repayment options. Alternative loans are also considered a supplement to Federal aid and help cover MBA costs. Alternative loans have specific eligibility requirements, competitive interest rates, and other benefits similar to private loans. Additionally, private and alternative student loans cover expenses beyond tuition, like transportation, rental, and emergency expenses.
Grant Programs
Many students qualify for grant programs to cover the expense of graduate programs like the MBA. Most grants and work-study programs are offered through Federal, State, and institutional programs and are based upon a student's financial need and FASFA qualifications. Grants are considered a "gift aid" and do not increase a student's post graduation debt as they are not repayable. Grants generally have deadlines and applying early generally ensures eligibility if students qualify based upon their financial situation.
Graduate Assistantships
Students within MBA programs also may cover educational costs within some schools through graduate assistantships. Graduate assistantships (also known as teaching fellowships) offer tuition remission and a stipend. These programs may affect a student's eligibility for financial aid so it is imperative students discuss their options with a financial aid counselor before applying. Graduate assistantships generally require students to perform teaching, research, and other duties related to the department they are working within.
Sample MBA Student Expense Budget
MBA student expenses vary tremendously and are based upon each students financial situation, tuition costs, and various other factors. Here is a sample MBA student expense budget for a single student living on campus (per quarter):
Living Costs Rent: $3,340 Food: $1,890 Personal: $910 Local transportation: $320 Books and supplies: $630 Campus Health Services Fees $173 Medical Insurance $1,128
Total Living Allowance $8,391
Tuition (11 to 18 Units/Credits)
Graduate $13,350
Total Living and Tuition Expenses per quarter: $21,741 Total Living And Tuition Expenses per year: $86,964
The difference between the cost of attendance after expected family contributions are subtracted from living and tuition amounts is identified as need. Financial aid packages in the form of loans, grants, scholarships, graduate assistantships, and other programs offset need amounts. As many students borrow funds to cover the gap between tuition, savings, and scholarships, carefully researching student loans and gaining an understanding of the potential rewards and risks assist students in making an informed decision. When selecting MBA loans, students must always consider the total cost of borrowing terms to best suit their educational and financial needs. MBA students must also consider the type of lending organization when selecting loans to ensure it is experienced in offering student loans. Since repayment schedules will affect a student's present and future financial conditions, comparing loan programs, interest rates, and any additional charges is crucial before committing to loan agreements. Selecting organizations with special services for specific types of loans will also be helpful for students as they manage the cost of their education. A majority of available MBA loans allow graduate students to postpone principle and/or interest payments until after graduation and have low interest rates based upon the economic market.
Potential Drawbacks to MBA Loans
As with all loans, there are potential drawbacks to borrowing funds through MBA loan programs. Some students may borrow as much as $200,000 dollars as they gain their MBA, which adds to a significant amount of post-graduation debt. Many MBA loans have a high annual percentage yield which only adds to the total cost of the MBA loan. Both private and Federal loans can cause a significant amount of debt for MBA graduates until they are in their 40s. Additionally, MBA loans do not cover the typical housing, car insurance, medical bills, and transportation obligations most adult graduate students incur while managing the rigorous studies of MBA programs. Many MBA students find difficulty in meeting financial responsibilities while pursuing highly competitive MBA degrees which make working full or part time in addition to studies very difficult. Most MBA loan programs require students to begin repayment immediately after graduating, despite employment status. Additionally, MBA loans are not covered by current bankruptcy laws and do not dissolve if graduates must file bankruptcy. Careful consideration of the cost of MBA programs and loans to cover them, as well as the cost of a lost salary, raises, and/or bonuses while pursuing studies, rather than gaining employment upon completion of an undergraduate degree, is of tremendous importance.
Maximizing Financial Options With MBA Loans
Weighing all aspects of the potential rewards and drawbacks of pursuing an MBA is an essential component of making sound financial decisions. Students who research and compare the many MBA loan options available through Federal and private programs ensure that every educational dollar is well spent. Additionally, maximizing financial options is beneficial to all students as they pursue their MBA and beyond.
Online MBA Finder
In just 3 easy steps we will help you find the best online MBA program for your needs.