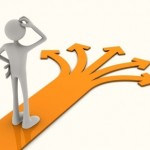 Choosing an MBA program to add to your resume is a savvy career move. This designation shows that you have the drive and dedication to be a leader in your professional environment. It's also a great choice for people who have experience in the workforce who either want to qualify for a promotion to a higher position or who are looking to change careers entirely.
If you are ready to bring your A Game to higher learning, there are a number of MBA programs to choose from. Not everyone can or should take a year or two away from work or other responsibilities to study on a full-time basis, and part-time and distance learning options are available to people interested in choosing an MBA program.
Featured Top-ranked Programs
1. Liberty University Online MBA
2. Grand Canyon University Online MBA
3. University of North Carolina Online MBA

Choosing an MBA Program: Two Year Full-time MBA Programs
The two-year program is a good choice for a student who is a recent university graduate or someone who has decided to change careers. Classes run for four semesters and MBA students will complete an internship during the summer break between school years.
This type of intensive study program includes core business courses as well as electives relating to a specific area of concentration, such as:
Accounting
Entrepreneurship
Finance
General Management
Health Care
Human Resources
Project Management
Prospective MBA applicants who are working on a full-time basis may be able to arrange a leave of absence from work to pursue their studies. Some employers will help with the cost of tuition in return for a commitment to return to work for a certain number of years after completing the program.
Choosing an MBA program that is a full-time program requires a full-time commitment from students. Working while going to school is not an option, and you will need to have a solid plan in place to finance your education and to either return to work or get a job after completing your studies.
Choosing an MBA Program: One Year Full-time MBA Program
Choosing a one-year MBA program can be a good option for a person who has at least a few years of work experience. The material studied in the program will be targeted toward the student's industry or a niche area of study. Depending on the program, the school year may run for 11-16 months.
Before choosing an MBA program that is one-year in length, consider that you will not get the broader range of courses offered in the two-year alternative. This option also doesn't include an internship component, which allows students to practice what they have learned in class in a practical manner and make valuable professional contacts.
Choosing an MBA Program: Part-time MBA Programs
The main advantage of choosing an MBA program that is part-time is that scheduling and course load can be adapted to meet the participants' needs. Most people enrolling in a graduate business program have work and/or family commitments. For them, taking up to five years to complete an MBA makes sense.
Studying part-time means that the student can continue to work. The cost of financing his or her studies can be covered through available financial aid, as well as the participant's continued employment.
The downside to this option is that trying to balance course work, employment and family responsibilities requires a tremendous amount of energy. It can be challenging to remain committed to completing the program over a longer term and sources of educational funding may run out if the studies take too long.
Choosing an MBA Program: Online MBA Programs
Online learning is an increasingly popular choice for adult students, and those choosing to pursue an online MBA are no exception. Classes are conducted over the Internet. Some online MBA programs include an on-campus component where students would attend lectures, participate in case studies or write exams.
Choosing an MBA program that offers classes online allows participants to continue to work and may offer some flexibility in scheduling for those who choose not to or cannot study on campus. Tuition and other costs would likely be lower for an online MBA program as well.
Before choosing an MBA program through distance learning, it's a good idea to make a point of finding out whether the MBA will be recognized by a prospective employer. Not all of them give the same weight to an online degree as to one obtained through attending classes on campus.
Choosing an MBA Program: Executive MBA Programs
A C-level executive (Chief Operating Officer, Chief Executive Officer, Chief Financial Officer) who wants to gain skills which will help them become even more effective in his or her professional activities may want to choose an MBA program called an Executive MBA program. Learning may occur on an accelerated basis or participants may attend classes over 12 months or more.
The curriculum for the Executive MBA program is designed to focus on developing key skills for people with several years of experience in the business world. This option does require some planning, since participants still need to stay on top of their day to day responsibilities while attending classes regularly and completing their course work. Once the Executive MBA has been completed, a graduate can look forward to a higher pay check and new professional challenges.
If your goal is to obtain an MBA, you have multiple options for reaching it. Studying full-time isn't the right choice for everyone but with part-time and online options available, it's possible to work toward this goal while holding down a job. The financial rewards of having this designation make it a worthwhile pursuit for people who want a rewarding business career. Choose an MBA program that is the right fit for you.
Online MBA Finder
In just 3 easy steps we will help you find the best online MBA program for your needs.